Your Banking Questions Answered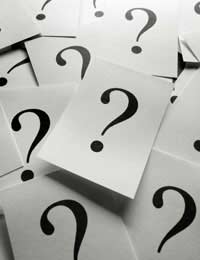 Got a question about your bank account? Or are you unsure how your bank has been affected by the credit crunch?
Here are answers to some of the most popular questions relating to bank accounts.
Q. I have a current account, a mortgage and a savings account all with the Halifax. Will I benefit from the HBOS/Lloyds TSB merger?
A. It is estimated that roughly two out of every five households in the UK are customers of the Halifax Bank of Scotland (HBOS) brand. But the announcement last year that Lloyds would be brought in to 'rescue' the bank has made its customers uneasy.
The good news is that whether you are a saver or a borrower, the impact to you should be minimal. Lloyds has no plans to scrap the HBOS brand, and the merger should help to make the new company even stronger.
Mortgage Holders
If you have a mortgage with HBOS, you will still be expected to make your repayments as usual. They have also pledged to maintain their lending criteria and to increase mortgage activity – including mortgages for first time buyers – once market conditions improve.
Savers
If you have a savings account or an ISA with Halifax, again, you shouldn't be affected by the merger. Your savings (up to a limit of £50,000) will be protected by the Financial Services Compensation Scheme.
However, this limit applies to HBOS as a company, and this includes its other sister companies, such as Bank of Scotland, or subsidiaries such as intelligent Finance. If you have £50,000 saved in each of these three banks for example, the compensation scheme will only reimburse you a flat £50,000.
Q. My bank is bombarding me with literature telling me to switch to their new premier banking service, which will cost me £12 a month. Is it worth it, or should I stick to my current free bank account?
A. Firstly, remember that there is no such thing as a free lunch. Free banking is a myth, and according to the Office of Fair Trading (OFT), most banking customers are paying in the region of £150 a year for their current account already. You are already paying heavily for your 'free' service!
The OFT is not happy with the way that banks are charging customers for having insufficient funds in their accounts, and have calculated that banks are making upwards of £2.5 billion in authorised and unauthorised overdraft charges. The OFT is also recommending that stricter banking regulation should be brought in to put a stop to this.
So, banks are now getting their retaliation in first, but suggesting to their customers that they move to fee-paying accounts. Should their customers decide to do this, the banks will be able to recover some of the money they will lose from tighter overdraft charge regulation.
If your bank is recommending that you move to a fee-paying account, ask them what the incentive is for you to do so. You may find that the cost of 'add-ons' such as travel insurance or breakdown cover do not nearly cover the amount you are going to have to pay in monthly fees.
If you don't think the fee is worth paying, think about whether you might be better off moving to a different current account provider.
Q. Should I try to reclaim ten years of overdraft charges from my bank?
A. Bank customers have complained about excessive overdraft charges for years, but in 2006 the OFT decided that customers might be able to prove that the fees they paid were actually illegal. In just over six months more than 100,000 people complained to the Financial Ombudsman and asked for their charges to be refunded.
Last year the OFT announced a test case that brought eight different bank account providers (HBOS, Lloyds TSB, HSBC, Clydesdale Bank, Barclays, Abbey National, RBS and Nationwide) to court in an effort to determine whether overdraft charges were unlawful and had to be repaid to complainants.
The banks are not going to admit defeat any time soon, as to do so could end up costing them billions of pounds in customer refunds. The case is still ongoing and is currently with the Court of Appeal. There will not be any more payments or refunds made to customers until the case is resolved.
You are well within your rights to make your own claim with your bank account provider. However you should bear in mind that the case is not expected to be resolved any time soon, and there's no guarantee that the case will be judged in favour of customers.
In the meantime, there's nothing to stop you lodging a complaint with your bank and looking to take your account elsewhere, to a bank that offers a competitive rate of interest and without punitive overdraft charges.
You might also like...
Hi i have lent a friend money last year cash i had saved at home it was a lot of money he says hes paying it back to me this weekto my personal bank he has a business he's says backs payment would this be ok to do he might pay from his business or personal would this b ok thanks ann
ann
- 9-May-20 @ 10:33 AM
I am a British subject living abroad. I bank with Nationwide and Lloyd's.I have received a tax rebate cheque from HMRC. I cannot cash my cheque where I live. Can my trusted friend pay my cheque into my account at any bank in the uk?
Cec
- 7-Oct-19 @ 10:53 AM
I have a large fund with UK Bank, held in bank account, to be transferred to my AFEXUK- Barclays business account. about twoweekd ago I and the Bank were getting the documents together UK Clearance, and IMF as I am Canadian and my AFEX uk Accounts are international. all documents are fine. The PROBLEM IS THIS THE bANK SAYS THEY NOW NEED TO Again we must MAKE draw down AND NEED THE insurance has to be here and on the account to be opened .CAN THIS STEP BE AVOIDED. DO I HAVE OPTIONS HERE TO AVOID THE HEAVY COST OF THE INSURANCE. THE END RESULT IS TO COMPLETE BY HAVING THE FUND TRANSFERRED IMMEDIATELY TO MY AFEX BARCLAYS ACCOUNT IT HAD TAKEN EXTRA TIME TO HAVE DOCUMENTS PREPARED, PLUS A FEE TRANSFER FROM CANADA MESSED UP AND HAD TO BE RESENT. SO THE ONLY THING IS THIS INSURANCE .WHICH IS VERY COSTLY, JUST HAVE THE FUND TRANSFERRED DIRECTLY WOULD BE PREFERRED, THE FUND IS LARGE 60M
I used one of your branch machines to pay my cheque in. Then i got the message it could not be paid in as there was my partners name on it. How do I get the cheque back? can i call the branch and aske them to have that paid into my partner's account by providing his bank account details? Or can i have that sent back to me?
jo
- 19-Sep-16 @ 11:37 AM
If an issued cheque has not been cashed within the time frame of six months can I retrieve it?
Aggie
- 23-Aug-16 @ 9:35 PM
Bacs payment!!!I'm due a wage on the 28th march 2016 Easter holiday when will I receive it?
sharky
- 24-Mar-16 @ 3:48 PM
If someone has a Business Current Accout with a chequebook, can one pay-in to the same account using that account's cheque?
Kolla
- 20-Mar-16 @ 7:06 PM
Hi, I have a current account with santander, no problems with it. Have had no defaults, bounced dd's nothing. I have tried to switch my current account to nationwide yet they will only offer me a basic account!! These are aimed for people who have bad credit... But I already have a current account and only wish to switch to another bank . I keep updated with my credit score using clear score... They get the info from equifax. Id really like to know why nationwide have slapped me round the face with this one. Any ideas? Nationwide just direct me to equifax as they think it's somethimg on my credit score... I cannot see a thing that's wrong.... Help!
Lou
- 17-Dec-15 @ 4:46 PM
littlejack - Your Question:
I have started using ePAy a software for collecting money from my customers by Direct Debit(BACs). The transaction went through with no errors. The money went into our bank account then showed two later as unpaid direct debit. I sent the customers DD forms to their banks, is there something else I have to do?Thanks
---
Our Response:
I'm afraid you will have to get in touch with the software company as it should have a troubleshooting page or helpline, or the bank directly, as these are technological or in-house issues we can't solve.
BankAccountAdvice
- 29-Sep-15 @ 11:36 AM
I have started using ePAy a software for collecting money from my customers by Direct Debit(BACs). The transaction went through with no errors.The money went into our bank account then showed two later as unpaid direct debit. I sent the customers DD forms to their banks, is there something else I have to do? Thanks
littlejack
- 28-Sep-15 @ 9:57 AM
Can anyone tell me what banks do not accept 3rd party payments?
lorr
- 10-Sep-15 @ 5:34 PM
My bank recently stopped a payment going to a shipping company because the goods were being sent to a country that the major banking systems dont deal with. The payment was made from my UK account to another UK account. The payment was rejected and I have been ofered no explanation. In addition I have ben asked to provide details of name date of birth name and nationality of all payees. Is this legal??
fatooti
- 23-Jul-15 @ 1:10 PM
@discod - for further information, I have included a link to the Financial Ombudsman article - 'banking: firms -right of "set off"'
here
which should answer your question. I hope this helps.
BankAccountAdvice
- 29-Jun-15 @ 11:14 AM
I am overdrawn on my bank of scotland account. Could the bank take any money out a seperate halifax account?
discod
- 26-Jun-15 @ 10:48 AM
@Paul Its when the bank takes money from one branch account to another. It is usually taken from the other count to pay off money you owe, especially if you go over your overdraft. You'd have to look in the terms and conditions. But if you are unhappy, I'd give the bank a call and ask them to explain.
Bella
- 8-Dec-14 @ 12:38 PM
in the UK, what is an inter branch payment and can it be made without the authority of the customer? thank you
paul
- 6-Dec-14 @ 4:29 AM
I have recently been scammed by a company. I ordered the product over the internet with my bank card,not realising they would take further payments each month. I have since asked for a new bank card, which I am waiting for. My worry know is will they have access to further payments, or know my bank and sort code numbers. Please can you give me any advice, linda
Lindy
- 10-Jul-14 @ 8:23 PM
Can you have more than one cash ISA in a tax year if you bank with more than one bank?
Hogs
- 24-Mar-14 @ 12:59 PM
Spanish tax authorities are asking for IBAN and BIC numbers for all UK dual residents, is this safe, what happens if the information gets into the wrong hands and money is stolen
my company moved my payday to the last working day of the month a few years ago and although inconvienient has worked as the money was always in my account by 6 am but the last 2 months i have been paid at 17 30 and my direct debits have not been paid my company informed me that this because the banks have changed the way they process our pay is this legal
shirls
- 1-Aug-12 @ 5:24 PM