How To Choose Which Bank is Right for You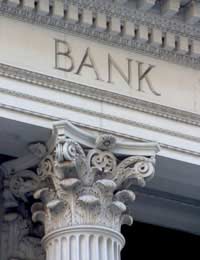 Being responsible for your personal finance means first and foremost using a bank with which you feel comfortable. Choosing the bank that is right for you is a decision that can only be made after doing some research on all of your options. Investigate a number of banks, think about what you would like to do with your money, and then see which institutions best fit your needs. After all, it's your money so you should feel that is safe, secure and ready when you need it.
Current Accounts
All banks offer current accounts, but not all current accounts offer the same terms and conditions. Some current accounts pay interest on the balance, some offer free transactions, some come with an ATM card, debit card and cheques and some offer online banking. Others offer all of these, some of these or none of these options. Read the fine print and ask a bank representative about their typical current accounts until you understand what you will and will not receive if you open one.
Savings Accounts
Savings accounts are perhaps the most typical method of saving money in the United Kingdom. These accounts allow you to stash your cash and earn interest while it is waiting. However, a savings account may come with restrictions such as a period of time that you must wait before accessing your money, caps on minimum and maximum deposits each month, variable or fixed interest rates and penalties for not keeping up with the terms and conditions. Again, discuss your options with a bank representative before you decide to finance their operations with your savings.
Mortgages
Banks are not the only institutions which offer mortgages, so make sure that you find out all there is to know about these products before committing to a bank based on the mortgage that it may offer you. Find out if you can be pre-approved for a mortgage, if the mortgage will be fixed or variable rate, if you can make extra payments each year or if doing so will carry a penalty, and which lump sum the bank will be prepared to offer you for a mortgage. If you do not like a bank's terms regarding mortgages, do not feel that you must submit to them. It is perfectly possible to bank with an institution but get a mortgage from another lender.
Other Options
Different banks will always have different options open to customers looking for cash management advice. Some banks will offer bonds and Certificates of Deposit (CDs) as well as a range of savings accounts and pension options. Stocks and funds are other investment options for those with extra money, however banks may not be able to manage such portfolios themselves. If you are interested in a way to invest extra money then ask to speak with a personal finance representative at each bank and get a feel for the services and products that they can offer you so that you do not feel limited to savings accounts as your only option for surplus money.
Choosing the right bank means choosing the bank that offers the most products with the best terms for your monetary situation. Investigate all of the services and products offered by a bank, as well as the terms and conditions of these items, before you decide to turn over your money to any institution.
You might also like...