Can My Friend Pay His Cheque into My Account?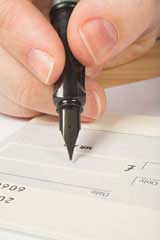 Q.
My friend recieved a UK cheque with his name on, however he doesn't have a bank account. Can he endorse it to my name and could I put it in my account?
(Mr Vaclav Rytir, 27 January 2009)

A.
"After section 81 of the Bills of Exchange Act 1882 there shall be inserted the following section—81A—(l) Where a cheque is crossed and bears across its lace the words "account payee" or "a/c payee", either with or without the word "only", the cheque shall not be transferable, but shall only be valid as between the parties thereto."
Up until 1992, there was no reason why a person could not hand over a cheque, made payable to themselves, to someone else for them to pay into their own bank account. You simply had to write the name of the person on the back of the cheque and that was it – job done.
However, as you can see from the quote above, the law has since been changed and now all cheques have to be crossed. You will notice cheques now have crossing lines across them and the account payee printed across the front of the cheque. This move was done as a way to decrease instances of fraud.
So, this makes it a risk on the bank's behalf to accept a crossed cheque into the bank account of someone other than the name printed on the front and as a general rule of thumb, they just do not accept them.
However, this doesn't mean that there isn't a way. Over the last decade a number of agencies have set up shop on the high street that say they will exchange a cheque for cash. Originally this was marketed as a way of people getting instant cash from pay-day cheques without having the wait for the standard three days.
Of course, these agencies accept the risk that the original cheque could be fraudulent and as a way of counter acting this they tend to charge a fee, typically a percentage of the cheque's value.
If you do want to use one of these agencies as an alternative, then you will no doubt be required to provide some form of identification and also, you should find one that is registered with the British Cheque Cashers Association (BCCA).
You might also like...
My son has received a UK cheque for £10, but now lives in Germany, and no longer has a UK bank account. Can he endorse it so that I can pay it in to my account? Or what other options have we.
Eggy
- 21-Jul-21 @ 12:00 PM
Iv had a tax payment I was owed I havnt got a bank account how can I cash my money
Podge
- 25-Jun-21 @ 4:44 PM
I have received car refund cheques from DVLA as my name. Can I pay into my friends bank account as I don't have any bank account at the moment? Can I do that?
Cece
- 28-Jan-21 @ 6:45 PM
I have received a check in my mums name can I put it in my account as my mum passed away on October 15
Chris
- 21-Nov-20 @ 12:10 AM
I want take me money to me acount bánk please
Eva123
- 25-Jul-20 @ 8:10 AM
Can my frend paya. Cheque in in for me as I can't get to. The bank myself
Pats
- 12-May-20 @ 10:44 AM
Hi one of my friend runs a sole trader business. He has received a cheque from local council for corona virus government grant scheme. He does not have a bank account. Can he cash out the cheque using my account ?
Mr Butt
- 15-Apr-20 @ 6:05 PM
I have received two Car Tax refund cheques from DVLA, how can I pay these into my TSB current account?. I am currently in confined to my house due to the Coronavirus and am not able to go to the bank
ollybeak
- 3-Apr-20 @ 2:03 PM
I have a cheque that need to be cashed it mine from work as I don't have bank account due to it closeddown, but with the covid 19 no stores are open but wanted to put it in my partner account. Can I do that or what option have I got?
Donna lou
- 2-Apr-20 @ 3:30 PM
I paid in a cheque on behalf of my boyfriend at the Post Office to be paid into his Santander (Santander were closed otherwise I would have paid it directly to Santander)bank account.The cheque has not appeared in his bank account despite me taking it to the Post Office 2 weeks ago.The Post Office say they have sent all cheques off via Royal Mail and do so everyday.My boyfriend's bank say they haven't received it.Do you have any advice on what to do to trace the cheque and is it possible that someone could have intercepted the cheque and either cashed it or paid into their bank account? Many thanks
Tayze
- 2-Apr-20 @ 11:23 AM
I have a cheque from DVLC. I took my car off the road as I am a vulnerable 78 year old. Now I am totally confined to my apartment for 12 weeks. How can I bank it into TSB. Thank you.
Joanne
- 27-Mar-20 @ 9:48 PM
Szóval mi a válasz ???? A barátomnak szintén volt egy csekk a HMRC-nál, nincs bankszámlája, és szeretné tudni, mit kell tenni vele.Ha elfogadhatom-e a bankszámlámra, vele velem azonosítóval ???
Bodri
- 21-Sep-19 @ 8:54 AM
So what's the answer ???? My friend also had a cheque from HMRC , no bank account and wants to know what to do with it.Can I accept it into my bank account, with him with me with id ???
Mand
- 31-Jul-19 @ 6:22 AM
Can I write a cheque to a fictitious person and then post it to my neighbours address, ask them to handover the cheque to me, then open an account with their address but with the fictitious persons name?I only ask as they have done the same to me and it didn't seem right.
Thop
- 19-Jul-19 @ 5:23 PM
I changed my bank over to my maiden name but have received a cheque in my married name
Bernie
- 12-Jul-19 @ 6:36 PM
My son received payment due to him from LLoyd bank but they refuse to cash the check as he has not use the open account for awhile. He lives aboard and is unable to go to the bank so has asked me to do so for him. Check is crossed to payee only. Bank will not accept check to be inputted to his accountas account has not been used. Advise on what to do.
JO123
- 13-Jun-19 @ 3:19 PM
Hi one friend he give me one cheque from hmrc revenue can i put in my bank account ?
Johnny1986
- 25-Apr-19 @ 1:12 PM
My Nan has given me a cheque, made payable to myself, she has written across the centre (across the crossed section) PAY CASH can I cash it at my bank RBS, she banks with the Halifax .
Brooky
- 12-Oct-18 @ 6:22 PM
I have a cheque from the lottery can i put it into someone else's bank account
Johnboy
- 27-Sep-18 @ 9:23 PM
I've got a cheque in my birth name do I need I'd to cash into someone else bank as I have no I'd in that name
Lee
- 10-Sep-18 @ 5:14 PM
Hi my partner as a cheque but no bank account as he uses mine and hes no id can he pit this in mine thanku
Tinks
- 26-Jul-18 @ 6:46 PM
Bm bm - Your Question:
Checks are no longer being accepted get up to date with times people
---
Our Response:
Cheques won't be phased out until October 2018.
BankAccountAdvice
- 11-Jun-18 @ 3:07 PM
Checks are no longer being accepted get up to date with times people
Bm bm
- 8-Jun-18 @ 8:28 PM
Can I put cheque in my wife back as I don't have 1
Tim
- 24-Mar-18 @ 4:26 PM
I've got a refund from tv licensing but I don't have a bank
Dee
- 20-Mar-18 @ 7:23 PM
My wife got fined for no tv liscence,and has been paying £20 per fortnight from our joint benefit caim, which is paid into my bank account as she hasnt got a bankaccount! Today she got a cheque from them for an overpayment! Can she put it in2 my account?
Pompey
- 19-Feb-18 @ 4:30 PM
My bf has been sent a.check.but only has a post office card account and cannot put it in. He also has no photo id. Can I put this in my.bank account?
Loz
- 26-Jan-18 @ 2:34 PM
My son as 4 cheque sent to him but wants them in my bank account can i put them in my bank account.
janette
- 12-Dec-17 @ 5:06 PM
My husband has a cheque made to him Mr M Frost but has no account can I put it in to my account if so how
Melmart
- 9-Nov-17 @ 6:52 PM
I have cheque with title of Cash, Can Itramnsfer it to my account as it is crossed with two parralel. Please guode me.
Marwat
- 24-Oct-17 @ 5:13 PM