Changing Your Current Account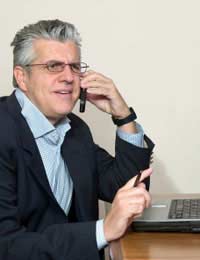 The relationship between a person and their bank is a complicated one. Most of us open a current account in our teen years and stick with them for the rest of our days, accepting whatever charges, fees or interest rate that they offer.
The general consensus among Brits is that switching current account providers is far too much trouble, but studies have shown that these fears are driven by myth and a lack of knowledge about the switching process.
Interesting Times
Almost half of us are under the impression that all current accounts are pretty much the same - but this is not the case. Accounts vary with the best on the market currently with rates of around 5 per cent and the worst offering 0.1 per cent.
There are other things that some accounts do - or don't - have. Lets go back to basics. Some banks offering current accounts lack telephone or internet banking facilities, others offer better customer service and some have higher overdraft charges or fee based accounts.
So, depending on what you desire from your current account could mean that here are sufficient savings to be made by switching your current account provider.
The Drawbacks
You may have been convinced by the 'potential savings' you could make if you switch accounts, but it is important that you are also aware of the possible drawbacks.
One example would be that banking with one institution for a certain number of years would demonstrate a degree of financial security to lenders if you were to apply for a form of credit, such as a mortgage or personal loan.
In today's climate it is very important to keep a good credit score. So, in this instance, one way to get around this would be to keep your old account open after you have got the new account up and running - at least for a month or two.
Choosing a Current Account
There are so many different types of bank accounts available and each one offers different facilities, has different charges and interest rates, all of which makes choosing the right bank account much more difficult.
Having a current account is important for the management of your personal finances and practically every bank offers a product, but it is difficult to know when you have found the right one.
Banks, supermarkets and the post office all offer current accounts and the one similarity is the ability to deposit and withdraw money at any time.
What's Important to You?
The one item that has become more vital as part of our finances with more and more Brits relying on overdrafts to get them through each month.
Most highstreet banks allow you to have an arranged overdraft and to be allowed to do that you will probably be charged an authorised overdraft rate. However, if you exceed the agreed limit or you haven't got an arranged overdraft the interest rate you are charged will be set much higher.
When you are looking for a current account, it is important that you don't opt for the one with the best offer. Many banks have introductory offers, such as an interest-free overdraft for a certain period of time, although remember to look at the rate if once this period expires.
Depending on what you will be using the current account for will be the ultimate deciding factor in which account is right for you. With so many different facilities on offer with different accounts you should look for an account that is best suited to your banking needs.
Quite a few accounts currently available on the market require a minimum amount to be paid directly into the account from your salary each month.
Many current accounts require a minimum amount to be put in each month and some stipulate that this should be from your salary. It is also becoming much more convenient way to keep on top of your finances and many banks with online accounts now offer better rates.
It is very simple and easy to use and once your online account is set up all of your bills are paid every month and you can log on to check your statement whenever you like.
This is an ideal way to keep track of your everyday finances, and if you have an authorised overdraft you will be able to make sure you don't exceed the limit and endure charges.
Make the Switch
Many banks will help you switch to the account you choose, and they will also move all of your current direct debits and standing orders over to your new account.
It is important to remember not to choose an account simply because of the attractive introductory offers, make sure you look at what the account will offer you over the long term.
You might also like...
Hi there, I have a very special question. Is it possible to change the name of the account? I mean, when I arrived here in the UK, I opened a current account with my origial hungarian ID card and the bank copied my name from the card as it was but the problem is, in Hungary surname comes first, followed by christian names, not the other way around as here. As a result it's quite difficult to bank a cheque or pass a credit check because the name is different on the account. Regards, Szabi
Szabi
- 15-Apr-16 @ 12:51 PM