Store Cards: Are they Worth it?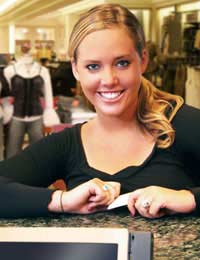 There are over 11 million store card accounts now in existence, but are they really worth taking out?
It is very tempting, when you are in a store and about to buy an armful of new clothes, to be tempted by the offer of a 10 per cent discount if you open a store card.
The stores employees are trained to sell store cards to customers and the job is made much easier because those they are targeting are already in the store and approaching the till to buy a selection of items they actually want.
The staff are also paid commission for each card they sell, so they are obviously going to do their best to make it sound appealing.
However, store cards often come with very hefty interest rates - as much as 29.9 per cent in some cases - which will soon disregard any introductory saving you might have made.
Store card work in very much the same way as credit cards, in that if you only pay the minimum amount required each month you will be paying the remainder with a high Annual Percentage Rate (APR).
Are they a good idea?
Store cards are only a good idea if you use them properly, for example, if you are simply using it to take advantage of the initial discount and pay the full outstanding balance back at the end of the month.
Charges usually begin after 56-50 days, so make sure that you have the funds available to repay the balance on your card.
Another way to take advantage of the initial discount is to transfer the balance to a credit card with 0 per cent APR and pay it off before this period expires - usually around six months.
However, whichever way you decide to go, you must have some spending/saving discipline otherwise you will be left with high charges and mounting debt.
Ruling the plastic
There are many disputes among consumers and financial watchdogs concerning these high interest rates, and we recently saw the introduction of a warning system to help consumers realise what they are getting into before taking out a store card.
These warnings will simply inform you if that particular store card has an APR over 25 per cent and there are potentially better deals available elsewhere.
Examples of shops that charge more than this are Topshop, Burtons Menswear, Miss Selfridge and Toys R Us. Cheaper store cards include Ikea, River Island and Monsoon, but make sure that you double check the interest rate as there are probably other, cheaper deals available.
Also, since May 2007, the providers of store cards also have to provide their customers with much more information within their monthly statements, give the customer the option to pay by direct debit and a separate Payment Protection Insurance scheme.
Store cards do have their uses, if you spend on them appropriately and pay the balance off in full every month. However, there are some much better deals to be found with the average credit card.
So next time you are about to take out a store card because of the 'good reasons' pointed out by the shop assistant…think twice about it.
You might also like...