Choosing a Credit Card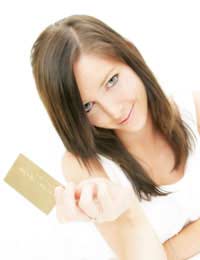 The popularity of credit cards has risen dramatically over the last 10 years and now the market is saturated with special offers and new products.
Looking for the right credit card for you can be an overwhelming task, however, there are some basic things to make sure you take into consideration before you settle on one.
There are so many different cards, each offering different deals that it is very difficult to decide which is the right one for you. First of all you need to figure out what kind of borrower you are. If you are the kind of person who will definitely pay off the outstanding balance on your credit card each month then it doesn't really matter to you what the interest rate is because you will never have to pay it.
If this sounds like you, then the best type of card to opt for would be one with no annual fee, or maybe one that comes with a loyalty bonus, such as cashback.
Alternatively, if you think you are unlikely to clear the balance each month then your best bet would be to shop around for a card with low costs – particularly ones with a 0 per cent interest on balance transfers and purchases.
Because there are so many cards on offer, most providers have special offers to help recruit new customers. For example, this might be in the form of reduced rates for a limited period, 0 per cent for six months or 12-months interest free.
Do not be sucked in by these deals. Before you choose a credit card that has a special offer, look at the rates the card will revert to once the 'special offer' period is over.
Credit Card Advantages
If you pay for expensive items on a credit card you, as the consumer, are protected by Section 75 of the Consumer Credit Act. This basically makes the credit card company liable in case of breach of contract.
So, for example, in an instance where the goods you ordered aren't received and the firm you were dealing with goes into liquidation, you will be able to get a full refund.
However, make sure you read the small print of your credit card agreement as some companies require you to spend £100 or more on one single purchase in order to qualify for this protection.
Penalties
If you are the type of borrower that will miss repayment deadlines, then you should probably re-think taking out a credit card simply because ech time you miss a payment you will incur a penalty fee or around £20.
The best way to avoid getting into financial trouble this way would be to set up a monthly direct debit to credit card so that you pay off at least the minimum amount required each month automatically.
Store Cards
Many consumers are often tempted to take out a store card because of the attractive discount offered on the initial purchase. However, you must be careful with this type of borrowing.
Many store cards carry with them high interest rates and if you don't clear the balance each month you could soon find your debt spiralling out of control.
Be sure to check the Annual Percentage Rate (APR) on the card before you take it out and bear in mind that many credit cards have a much better rate and usually an added benefit that would be more suited to your circumstances in the long-run.
You might also like...