Understanding Bank Interest Rates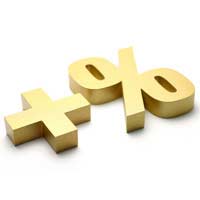 If you have ever applied for a bank account, credit card, loan or overdraft, or paid for goods using credit, then the chances are that you have been offered either an APR, EAR or AER.
The terms apply to different rates of interest charged (and paid) on products, and they are there to prevent consumers from being dazzled by companies making misleading claims about their products.
Why are Annual Interest Rates Important?
Of course financial institutions would prefer to simply sell you a product and get you to worry about the rate of interest at your own leisure.
However, if you have a better understanding of how different interest rates are calculated, then there's a good chance that you will have more of an idea of whether a particular product is the best deal for you, and how to avoid paying too much for it.
Annual Percentage Rate (APR)
APR is the rate of interest used by most companies offering loans, credit cards and overdrafts. Companies use an APR to show to potential and existing clients how much it will cost you to borrow money over the course of a full year.
The APR tells you how much your borrowing will cost over the course of a year, as a proportion of the amount you have borrowed. So if you are borrowing £100 at an APR of 15%, you will pay £15 in interest and charges over the first year.
Companies are legally required to provide an APR quote in order to allow customers to compare products on a like-for-like basis.
APR – the Drawbacks
Most lenders will provide a 'typical APR' quote, which means that the actual lending rate available is subject to change and will depend on your credit history and personal circumstances.
A lender has to make its typical APR available to at least 66% of potential new customers. Therefore, four out of every ten customers applying for a product with a typical APR may find themselves offered a higher rate.
The APR will include any upfront fees charged by the lender (excluding payment protection or other forms of insurance on the loan.
Headline Rates
Another method used to entice potential customers (especially in the mortgage market) is the offer of a low 'headline rate'. Such a low rate often makes a product seem very attractive and the best deal in the market. However, a headline rate will often leave out the additional administration fees associated with taking out the mortgage.
Equivalent Annual Rate (EAR)
If you have an overdraft, chances are that it will be calculated using an EAR. This type of interest rate is applied to accounts that can be in credit or debit at different times, so that the provider can charge you an agreed rate of interest for when you go overdrawn.
As with the APR, the EAR is calculated on the basis of being used for an entire year. The calculations include the rate of interest being charged, how often it is charged, and the effect of compounding it (charging interest on interest) over the year.
Annual Equivalent rate (AER)
Swap the words around and you get the AER, which is used to calculate interest rates that you will earn on savings and current accounts that are in credit. Simply put, the AER applies to interest you have earned rather than interest you are required to pay.
Comparing AERs is useful if you have an account that is always in credit, as you can calculate how much your money would be worth if the account stayed in credit for a full year. It will also help you to compare accounts that charge 'monthly and annual rates, so that you can determine which deal is best over the longer term.
Here's an example. Savings Account X pays an annual AER of 6.25%. At first glance this may look better value for money than Savings Account Y, which is paying 6.15% with monthly interest payments. A closer look at the terms and conditions of Savings Account Y shows that the actual AER of the account is 6.30%.
AER – the Drawbacks
Bear in mind that unlike the APR, the AER is an estimated calculation. You may not a different level of return on your money after a year. Banks also like to confuse matters by quoting 'gross' and 'net' AERs.
A gross AER is calculated before deducting income tax, a net AER will be the amount paid after income tax is taken out. If an account offers a special introductory bonus rate, the terms and conditions of the account should inform you of whether the introductory bonus rate is included in the overall AER.
The aim of APR, EAR and AER is to provide some consistency for customers, so that they can compare products quickly and accurately. However, companies will always try to make their interest rates as enticing as possible to lure in new customers, so make sure that you have a clear idea of the different rates available.
You might also like...