Reclaiming Unfair Bank Charges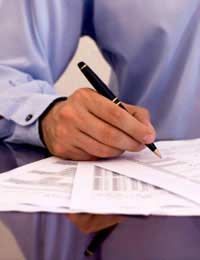 The ongoing dispute about high bank charges is still unresolved as the Office of Fair Trading (OFT) have once again delayed their decision.
Last year, the OFT decided that the majority of penalty charges imposed by banks are far too high, for example a fine of £39 for going over an authorised overdraft limit. The OFT ruled that this charge should, realistically, be no more than £12 which would reflect the actual cost of processing.
These charges amount to an estimated £3.5 billion of the banking industry's income and unsurprisingly, the highstreet banks are not overjoyed with the number of reclaiming cases they have recently received.
Up until now, every case brought up by a customer has been settled out of court by the bank involved. However, as a result of the volume of cases, the OFT has now got involved and is due to make a decision in the test case. This decision will ultimately determine the future of reclaiming unfair bank charges.
Previous to the hold on reclaiming cases until the outcome of the test case, over 150,000 customers had successfully raked back charges from their bank.
How do I start
You must remember that while the OFT test case is ongoing, all cases have been put on hold, although there are some steps you can take to get the process underway.
First of all you should set up an alternative current account. This is simply because banks have been known to shut down the accounts of customers who have successfully reclaimed unfair charges in the past.
Despite calls from the Financial Ombudsman for banks to refrain from doing this, you should still do it as a precautionary measure.
The amount
You are able to claim for the past six years in England and Wales, it's only five years in Scotland, including the account you currently hold along with any you may have closed down.
So, obviously you have to collect statements. This is much easier if you have access to online banking, however, if you don't then simply send a letter to your bank requesting a comprehensive list of all your past charges/fines.
Some banks will complete this request over the phone. Although, because they are allowed to charge £10 to post out the information, many of them require you to send a letter with a cheque enclosed.
This is the legal part, and by law the banks have 40 days to respond. If they fail to get the information to you, follow up with a telephone call and then report them to the Information Commissioner.
And finally…
The final step is to simply write to your bank requesting that they refund the charges. Make sure you include the full amount and the evidence (the statements).
You can also ask for the interest back, but obviously with this there is a risk that the banks will refuse because you are asking too much.
You should get a reply from the bank to acknowledge that they have received your complaint, but they will also point out that they have permission to hold all cases until the outcome of the test case.
You might also like...
I get a text when not enough money in my account. I recently had 3 returned standing order fees at £15 each. Standing order was to my other bank account in my name. I queried why no email was sent to ask me put money in before 2.30 they said it only Direct Debits and not standing orders you receive email for. I always like to know what money may be coming out next day, got told ml Nationwide can't tell me anything until on the day hsbc and Halifax can. They know what's in mid air ready to come out of my account the next day. Why should we be charged £15 for standing order £15 of which had no idea it hadn't gone with no requests on my phone to say not enough money in. Now I'm worried how this affect my credit rating and money was paid back in same day it came out unfair to get charged. Can someone let me know how this affect my credit rating please and should a bank charge you £15for a returned fee of £15
Flirty
- 4-May-16 @ 11:20 PM
I have an account with Santander (123) which I don't use anymore because i've had such problems with them getting to use online & mobile banking and on top of that have consistently been charged unarranged overdraft fees of +£60. The reason I don't pick the negative balance is because whenever I look at the account there is money even a small amount. I don't understand how they can let money go out if there is not enough in the account and I haven't agreed an overdraft. I can't afford these monthly charges of £60+ when I'm not even spending a quarter of that. Please help I'm not in a great financial state at the moment and these charges just make it worse especially when I don't understand them? It seems like a never ending cycle and I'd like to just close the account.
ADTwo
- 23-Jun-15 @ 9:16 AM
the only reason my council tax is in the deep deep doo doo ... is because my bank thought it was ok to take £300 bank charges in about 3 months . .yes £300 . . this was odd . . I have no direct debits .the reason I stopped direct debits was because of silly charges . ?
sooty
- 15-Jun-15 @ 3:16 AM