Protecting Yourself Against ID Fraud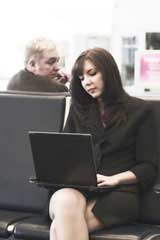 More and more people are turning to the internet to do their banking, shopping or purchasing of financial products, such as insurance. However, in doing this, they could be making themselves a vulnerable to identity thieves. It isn't just the average person that is subject to ID theft. Celebrities such as Jennifer Lopez, Robert De Niro, Tiger Woods and even Steven Spielberg have left themselves wide open for online fraudsters.
Internet crime can take place in a variety of ways, for example, through personal banking or by sending private details in an email. The latter is known as phishing. Many online fraudsters use email 'scams' as a way of gaining personal information. They often impersonate a bank and ask people to verify details such as their account number and password.
Many banks have become aware of 'phishing' and are working actively with the police and customers to make them aware of the risks involved and how to protect themselves from it. The message is simple, do not send any personal details in an email and report any 'phishing' mail to the relevant bank. However, while trying to clamp down on online 'phishing' scams, the more advanced fraudsters have found another way. This, more sinister, way of getting personal details is through the use of 'spyware'.
Spyware
Basically 'spyware' is similar to a virus that infects your computer without you knowing and records any details that you type in when you log onto your online banking account or when you pay for your shopping. The best way to get around this is to make sure your computer has sufficient security software. You may have heard talk of a 'firewall'. This is important because it acts as a form of shield against those who might be attempting to get access to your personal files or details when you are online.
Internet users can protect themselves in a variety of ways. Most importantly, watch out for emails asking for personal details. Banks never send these. Fraudsters also use emails that suggest you are a winner in a free lottery. The first email will simply request you to reply for details on how to claim your prize, followed by another email instructing you to contact a courier in order to receive your cheque. These may seem quite innocent, but the telephone number they give (usually starting with 0704 or 0703) charges 47p per minute and they will request that you send money in order for the cheque to be delivered.
Change Passwords Regularly
If you have updated all of your computer security software, the other thing you can do to help prevent you becoming a victim of ID theft is to change your passwords regularly and try not to use the same password for every online account you hold.
If you are worried that you may have been a victim of ID theft, then you could get a copy of your credit report and check if any new loans or credit cards have been taken out under your name.
If they have, then the best thing to do would be to contact both your bank and the lender involved in granting the credit and make them aware of the situation.
You might also like...