Protecting Your Current Account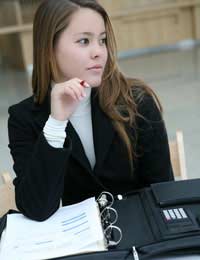 More and more people are getting caught in the fraud trap, but there are things you can watch out for to help prevent your hard-earned cash from disappearing from your account.
There was a time when all you had to do to protect yourself against fraudsters was make sure no-one was looking over your shoulder, but that has all changed.
Fraudsters have evolved and they now use high-tech equipment to copy your card and Personal Identification Number (PIN).
And this isn't where it ends. Recently HM Revenue & Customs admitted to misplacing a number of discs containing the personal details of 25 million people. Information that if it had fallen into the wrong hands, could have lead to ID fraud on a massive scale.
Banking with fear
All banks are now aware of the lengths fraudsters will go to in order to get hold of your cash and are doing all they can to prevent it, but they are very reliant on consumers being aware of their surroundings and informing them when they think a cash machine has been tampered with.
A tampered cash machine is quite easy to spot. If you look at the slot where your card fits in and notice that it isn't flush to and flat, this is a sure sign that fraudsters have altered the machine.
You see, fraudsters use a metal device that can be attached to the slot that you insert your card into, a machine that will read and record all of the data from your card.
Then all that the fraudsters need it your PIN, which they get from a small camera hidden within the frame of the metal device which points solely at the keypad.
All of that information is then transmitted to a car parked nearby where the fraudsters can instantly clone your card and spend your money.
Some tips to avoid fraud:
Change your password and PIN at regular intervals. It may seem like a hassle, but it will put a stop to anyone who has managed to gain access to your account. Make sure you do this if you think you may have used a cash machine that has been altered.
Check you bank account online, or get a mini statement every time you visit an ATM just to keep a watch over your account activity. This will prevent any unauthorised spending the minute you notice it and limit the amount taken from your account.
Regularly check your credit report, this way you will notice if anyone has used your personal details to apply for credit. There are two main credit reference agencies that you should contact, Experian and Equifax. They both charge a small fee to send you your credit report, but if it will be well worth it in the long run!
Remember, the one rule if you think you may have been a victim of fraud is not to panic. Simply inform your bank and they will cancel all the relevant cards etc to prevent any more spending on your account. They will also refund you the amount that has been taken from your account.
You might also like...