Credit Card Protection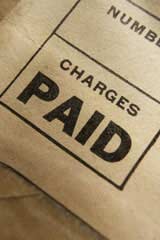 More and more people now opt to use plastic as their preferred method of payment rather than the cash alternative and merely the idea of having them stolen or losing them is enough to send us into a fit of sweats.
Losing or having your credit card stolen is a nightmare and can be extremely time consuming (obviously depending on how many cards you have).
However, a card protection policy can help. These schemes ensure that, once you have reported your cards as 'missing', you have access to emergency money and that all your cards are cancelled so that they can't be used if they fall into the wrong hands.
The Cost
These policies are available from most banks and credit card providers and cost from around £12 per month. There is also the option, offered by some companies, to insure all those in your household that have a credit card, which costs around £29 per year.
If your credit cards have been lost or stolen you ill only be liable to pay for the first £50. However, this doesn't apply if you have lost your card as a result of reckless behaviour and providing you haven't given out your Personal Identification Number (PIN) to anyone else.
It is good to double check this as many banks will only cover unauthorised spending on a card from when it was reported stolen and not before. However, most credit card protection policies will cover you for a limited amount before the missing cards are reported.
The Process
Setting up your insurance policy is relatively easy. You simply register your card details and other information - your passport and driving licence for example - and if you ever find your cards are missing this information is used to cancel the cards without the need for you to spend all day on the phone.
Some insurance policies will even include the cost of replacing your driving licence and passport if these happen to have gone missing as well.
It is important that you shop around for the deal that suits you best, because these insurance policies often come with hidden extras that you don't need.
Reporting a lost or stolen card is also relatively simple if you have insurance. All you need to do is phone your insurer using the freephone (or in some cases a reverse charge number) provided and leave the rest to them.
Stuck Without a Penny
Because we rely so much on plastic it wouldn't be uncommon for us to find that we are stuck without any money if our cards are lost or stolen. This is where your policy plays a very important role. It will help out by giving you access to emergency money, usually up to £3,000.
Buying Insurance
Before you purchase a policy from a third party double check that your credit cards aren't covered by your existing home or travel insurance policies.
Also check whether or not your card came with an insurance policy when you took it out - most banks require you to opt out of their credit card protection scheme when you first apply for the card.
You might also like...