Protect Against Banking Fraud at Home and Online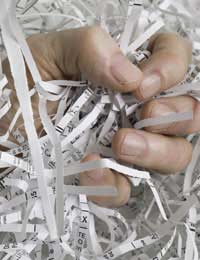 Beware, fraudsters have worked out a number of different ways to steal your personal details and commit ID fraud. We reveal the most popular methods of ID theft and what you can do so keep your personal details safe.
Protecting against ID Theft at Home
Think that your personal details are safe and sound in your home? Think again. The ID thieves have got many subtle and not-so-subtle ways in which to get your private information.
Bin raiding is one of the most obvious ones, yet it continues to be the commonest form of ID theft. An estimates 79 percent of household waste contains at least one or more items that could be used by fraudsters to steal someone's identity.
You may already shred your banking documents, but the thieves can also gather useful information about you from other seemingly unimportant scraps of information.
Old utility bills, credit card offers, council tax letters, they all contain information which can be used by clever criminals as 'stepping stones' in order for them to obtain more important information about you and your financial arrangements.
It therefore makes good sense to invest in a decent cross-cut shredder and to use it for all mail that comes into your house and is to be thrown away.
Unsolicited Phone Calls
Criminals can be charming and persuasive, particularly when dealing with unsuspecting people who do not know they are being targeted. Remember that anyone phoning you 'out of the blue', pretending to be from your bank, the council or contacting you for market research purposes may not be who they appear to be.
Be suspicious of asking for you to update personal information or to confirm your personal details with them. If in doubt ask them to contact you in writing instead or hang up and call them back later via the organisation's switchboard number.
Theft
Burglars may not just be after your wallet or DVD player, but could also be after your personal information too Furthermore, the last thing that people think about after a burglary is whether their bank statements or driving licence is missing.
You should always store important documents well out of sight, ideally in a locked cabinet or a drawer. Don't make it easy for thieves to add insult to injury by robbing you twice.
How to Protect Against Online ID Fraud
Another way for criminals to steal your identity is via your computer. It is a fact of modern life that people now place large amounts of personal information about themselves onto the web, particularly via social networking sites. Fraudsters have cottoned on to this and have developed sophisticated ways to extract information that can target you and steal your money.
Be careful just how much information you choose to 'share' on a social networking site, avoid putting on details such as your date of birth or your mother's maiden name.
When it comes to internet shopping, it is wise to only purchase goods and services from websites by reputable companies. Use Paypal instead of offering your credit card details as this provides you with an added layer of protection if the website proves to be untrustworthy.
Phishing
The practice of phishing is one where a potential victim receives an e-mail claiming to be from a bank or credit card company. The email usually comes as a request for information, or a warning that there may be an issue with your account.
The aim is for the recipient of the email to be concerned enough to open up a weblink attached to the email, supposedly sending the user directly through to the bank's website. Of course, while the site looks genuine, it is just there to encourage you to enter your personal details and passwords. Once the fraudster has these, they can access your account at any time, pretending to be you.
The best way to avoid phishing is to delete all unsolicited emails supposedly from your bank or credit card company. Log on to its website (but not from an email link) and check whether they have posted a message on their system.
If you feel suspicious check whether the internet address looks genuine and has the secure web prefix of https instead of http. If you are still I doubt, give them a call instead.
ID fraud may be on the increase, but if you take the simple steps to protect your information, at home and online, you will make it much harder for fraudsters to be able to steal your personal details.
You might also like...