Checklist: Ways to Avoid Bank Account Identity Theft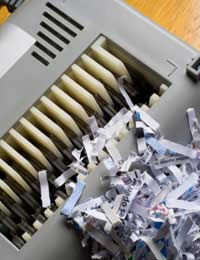 It is estimated that in the UK every year there are more than 70,000 victims of identity theft. Being a victim of identity theft can leave you seriously out of pocket, and can also make it difficult to get loans, credit cards and mortgages.
Follow this checklist to avoid becoming a victim of bank account identity theft.
Checklist Point 1: Get a Shredder
Identity thieves are quite happy to rummage through bins if they think they will find bank details, account numbers, signatures or other financial details.
Unfortunately banks, utilities and credit card companies send out regular monthly statements and in the case of some credit card companies, blank credit card cheques that can be used to transfer money out of your account.
Remember that if the thieves can't read your information, then they can't use it. A good shredder costs upwards of £12, but for peace of mind is worth a lot more.
Checklist Point 2: Keep Personal Information Safe
If a thief gets hold of your Personal Identification Number (PIN) and manages to clone your credit or debit card, they can clear out your account in hours. Don't tell anyone your PIN and never keep it written down.
When you withdraw money from a cashpoint or make a payment in a shop or restaurant, be on the lookout for 'shoulder surfers' who are standing close enough to see you type in your PIN.
Checklist Point 3: Moving house? Redirect your Post
If you are moving house, make sure that you arrange for your post to be redirected as soon as possible. Don't rely on the new occupants to forward your mail, or to not open it.
Also make sure that you contact your bank, utility providers and other financial companies of your new address, and inform your local council that you will be paying council tax from a new location.
Checklist Point 4: Protect your Online Identity
Ever hear about the person who posted her address onto her Facebook site, updated her status to tell her friends she was going on holiday and then returned home to find her house burgled and her bank account identity stolen?
It might be nothing more than a cautionary tale or modern day urban myth, but it makes the point that not everyone on the Internet is your friend, and that unscrupulous people will always look to exploit new technology.
Always be careful about the personal details you post online. Dates of birth, full names and addresses are useful information that fraudsters can use to steal your identity. Make sure that your social networking settings are secure and that your information is protected.
Checklist Point 5: Always Check Statements
Always make a point of opening your bank and credit card statements, and check them for any unfamiliar transactions.
Your bank will expect you to contact them as soon as possible if you find something suspicious on your statement and the sooner you report suspicious activity the sooner any potential fraud will be discovered.
Checklist Point 6: Keep Your ID Documents Safe
Your passport and driving licence are valuable documents, recognised by the police, by banks and other financial institutions to establish your identity. Keep them in a safe place and don't carry them around with you without good reason.
If you discover them to be lost or stolen you should contact the DVLA and the Home Office so that they can cancel the lost/stolen versions and arrange to send you replacements.
Checklist Point 7: Always Request Official Identification
Fraudsters often claim to be acting as an official in order to gain your trust and your financial data. Check whether they are truly who they claim to be before giving any personal details.
Be wary of "researchers" or charity workers on the street who ask for your bank account details to set up a direct debit. If you feel at all suspicious, take some details from them and tell them you will fill out your details on their website instead.
You might also like...