Instant Saving Tracker Accounts Explained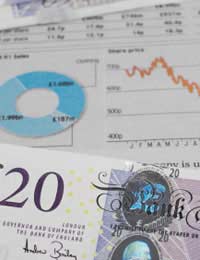 Instant saving tracker accounts are savings accounts in which the percentage rates are tied to or track the base rates of an entity such as the Bank of England. Sometimes such a saving account is guaranteed to track the other rates by a set percentage or for a set period of time, and some such accounts are tiered so that the more a customer saves him or herself the more (s)he can save due to interest rates. Like all kinds of saving accounts, instant saving tracker accounts may not be for everyone. Individuals who are trying to get aspects of their personal finance in order should speak with a bank representative about what kind of account might suit their lifestyle and budgeting best.
Deciding On Savings Accounts
It can be very hard to navigate the sheer number of savings accounts available today. Wading through all of these options can make banking seem frightening to those who are not experienced with finances, budgeting or investing. It is important to remember that no matter what kind of savings account is ultimately selected, the purpose is the same: saving money. Whether an individual wants to be locked into certain interest rates or likes the idea of variable rates, (s)he must remember to take the time to talk through all of the small print on the accounts. Any reputable bank representative should have no problem doing this.
Accessing Money In Savings Accounts
In addition to understanding the interest rates that will pertain to any given savings account, individuals should also understand the access restrictions. Savings accounts will have different time limits on how quickly an individual can actually withdraw money for his or her account. Some accounts have no limit, some accounts may have a limit on how many times withdrawals can be made per year or quarter for free, and some accounts may have restrictions on the length of time (one working week, 17 working days, etc.) needed as a warning before money can be withdrawn. Thus savings accounts should only be selected if it is entirely understood how they work, including right down to using the money in them and even closing them and withdrawing all accumulated savings.
Taking Investing Tips From Others
Instant saving tracker accounts are quite similar to investing as the amount of interest earned on them is tied to a fluctuating rate. And similar to other investments, others will always have tips or hints that they believe make one account or investment better than another. Taking investing tips from others should also be done with caution. If others are giving information that can be corroborated elsewhere then it might be safe to trust that particular tip, but if information is offered for which there is no evidence or proof then individuals should realise that this tip may not be any good at all.
Instant saving tracker accounts are a specific type of saving account. Individuals interested in learning more about this type of account should contact banks offering them and ask for an appointment to sit down and discuss personal finance options.
You might also like...