Choosing a Savings Account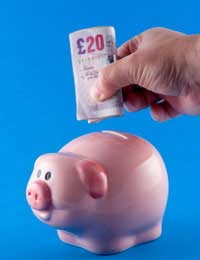 Once you have paid all of your monthly bills; rent, mortgage, phone bill and energy, you will probably find that you have more than enough left until next pay day, so why not make that money work for you?
If you simply keep all of your money in your current account, chances are it will only be gaining a basic level of interest. You should therefore, start looking around for a savings account that will give you more for your money.
There are load of accounts available, each with a different rate of interest and levels of access, so it is best that you work out your personal financial needs before settling for a particular account.
The most important factor that you will need to consider is how instantly you will need access to your cash if you're faced with an emergency.
Quick and easy
If you would feel more at ease having swift access to your savings then you should probably opt for an instant access savings account.
Previously, the best rates of interest were associated with 'notice accounts' which required you to give a certain length of time in order to withdraw your money. This period between your initial request and actually receiving the cash can be up to 90 days.
However, it is now possible to get similar rates of interest on an instant access savings account. These come with a cash card giving you access to your cash at a moments notice.
In the past, the best interest rates have been granted to those who agreed to put their money away for a certain length of time. These 'notice accounts' required that you give your bank notice that you wish to make a withdrawal. The period between requesting money and actually getting it can often be up to 90 days, depending on the terms of your account.
The problem with these accounts is that your money is still taxable. A much more attractive option for many savers lately are instant-access cash Individual Savings Accounts (ISAs).
Basically, these are tax-free accounts that offer instant access to your money, although they do come with an investment limit which is currently £3,000 (this is set to rise to £3,200 in the 2008/09 tax year).
Saving regularly
There is also the option of opening a regular savings account which involves depositing a certain amount each month. These accounts offer very attractive interest rates, some that even beat an ISA.
You must remember, however, that if you stop making the regular payments, or miss one by mistake, you won't be entitled to the interest bonus that is paid annually.
Security
The government offers various savings packages which usually involves buying bonds.
The way these work are simple. They are typically loans that you give to the government, on which you are paid a certain rate of interest.
This form of saving doesn't necessary come with a great rate of interest, but they do offer an extra level of security because the government is unlikely to ever become insolvent.
The general rule, according to many a personal finance guru, is that you should have the equivalent of three months wages put away for a 'rainy day', however, this can be quite daunting to someone just starting out. Just remember that it is always good to have a safety net, no matter how small it might be.
You might also like...