Overdraft Rates Now at Record High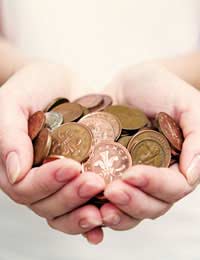 Britain's banks may have recovered from the mess of the financial crisis back in 2008, but it seems that they still have quite some way to go before winning back the trust of UK consumers.
The latest controversy from the banks comes not from big city bonuses, but from the exorbitantly high fees they are charging customers for being overdrawn.
Agreed Overdrafts Getting More Expensive
According to recent research conducted by consumer financial information group Moneyfacts, the rates that banks are charging on authorised overdrafts (that is the amount customers are free to borrow on a monthly basis) are at decade-long highs.
In fact, the average interest rate for agreed overdrafts has now reached a staggering 14.2 percent.
This is a level that many consumer groups and financial watchdogs consider to be unacceptable, especially considering the Bank of England has kept the base rate for borrowing at 0.5 percent for close to 18 months.
The last time bank overdrafts were more than 14 percent the Bank of England base rate was at 6.0 percent.
The High Costs of Being a Bank Customer
So how do these charges work in practice? Well, if someone had an agreed £500 overdraft at an interest rate of 14 percent, and they were overdraft for 15 days of the month, they would expect to pay just under £3 per month in charges, or £36 per year.
Of course the larger the overdraft the more the customer will be required to pay.
Are Banks Treating Customers Fairly?
So what is an acceptable rate for an authorised overdraft? Well over the last ten years the lowest average rate for an overdraft was the 11.8 percent level reached back in 2004.
It is no surprise that since then rates have increased, particularly given the problems UK banks back in 2007 when Northern Rock faced collapse without government intervention.
Some people are now arguing that the banks are looking to increase their profits by increasing the charges for everyday services such as authorised overdrafts.
Banks have in recent years been forced to lower the fees they charge for unauthorised overdrafts, so in turn they have looked to recoup income by charging more from those customers that stay within their credit limits.
It seems that the banks have quickly cottoned on that they can make more money from their loyal customers than they can from extracting penalty charges from those customers that borrow without permission.
The Banks' Defence
But what do the banks say? They reject the accusations that they are profiteering from their customers. Instead, they argue that the comparison of today's interest rates with those of a decade ago simply fail to take into account the vastly changed economic environment.
Back then, they claim, we were living in the 'era of easy credit' when it was far easier to get large overdrafts or personal loans at relatively low rates of interest.
Now, in these more debt-averse times, they argue that the banking industry has changed, and has pushed up the costs of borrowing money in an effort to be more responsible in their lending.
Unauthorised Overdrafts Still More Expensive
Despite the rising costs of authorised overdrafts, they still work out far less expensive than the alternative, which is going overdrawn without getting the bank's permission first. In some instances customers can be charged £30 for each individual item which takes them beyond their approved limit.
For now it seems that without any government intervention, the banks will continue to have a free rein in terms of charging whatever they consider acceptable for authorised overdrafts.
You might also like...