Top Five Credit Cards for Christmas Shopping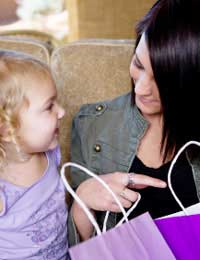 According to research conducted by the online shopping portal Twenga, British shoppers will spend an average of £414 per person over the festive season. This is an increase of almost 20 percent on last year's Christmas bills.
As the Christmas shopping season gets more and more intense, many people will be planning to use their credit cards to pay for their presents, food, decorations and other purchases. But what are the best credit cards to choose? This article takes you through five of the most popular credit cards for Christmas shopping, as well as pointing out the pitfalls to be wary of.
Best Card for Christmas Cashback
If you spend heavily on your credit card but have enough income to repay your monthly bill in full, then you might decide that a rewards credit card would work well for you. These cards offer cashback on purchases, so the more you spend, the more cashback you receive.
The market leader in rewards cards is the American Express Platinum Card. It pays out 5 percent cashback on all purchases made within the first three months (up to a maximum of £100). After the three month period is up, you keep earning up to 1.25 percent cashback on purchases. The card also comes with a six month interest free period on purchases after opening an account.
If you prefer, you could opt to earn air miles instead of cash on your purchases. With the BA American Express Card you can receive 1,000 air miles if you spend more than £500 on the card in the first three months.
So how do credit card companies make money on cards that offer cashback? Well the simple truth is that most people do not have the discipline or the income to clear the balance on their credit card each month.
Once a customer starts to accumulate debt on a rewards account they will be expected to pay a rate of interest over and above they would normally pay on a standard credit card. With both American Express rewards cards they come with a hefty 19.9 percent interest rate.
Best Card for Paying No Interest
Christmas is invariably expensive, so it may make sense to put your Christmas spending onto a card that offers a zero percent introductory period. The Barclaycard Platinum Credit Card offers a twelve month interest free period on all purchases, but after this period the interest rate returns to a more sobering 18.9 percent. The card also offers other benefits, such as reward money if you use it at participating retailers such as Pizza Express and Shell.
Best Card for Paying Existing Debt
It's all too easy to overspend over the Christmas period, and many of us are still repaying debt accumulated from last year.
If you are worried about your existing debts or those that you will build up over Christmas, then you may look to use a balance transfer in the New Year to get your finances straightened out.
The MBNA Platinum Visa Card offers a highly competitive 16 month interest free balance transfer period, which means that if you took out the card in January you would have until 2012 to repay your outstanding balance.
Bear in mind however, that credit card firms like to charge up to 3 percent on balance transfers. Also, once the interest free period has ended the MBNA card will revert to an interest rate of 16.8 percent.
Best Dual Card
If you are undecided about whether you need a card for purchases or balance transfers, then what about one that offers the potential for both? The MBNA Dual Card is interest free on purchases and balance transfers for the first twelve months, but thereafter offers high rates of 18.9 percent on purchases and 21.9 percent on balances. There is also a 2.98 percent fee on all balance transfers too.
One of the benefits of the card, however, is that it sets your debt into a hierarchy and pays off the most expensive debt first.
Best Supermarket Credit Card
If you have a large family and seriously large food bills each Christmas, you might want to consider taking out a credit card offered by one of the major supermarket chains.
For example, with the Tesco Clubcard Credit Card, you get an interest free period of 13 months, and perhaps more importantly, you earn clubcard points on your purchases (one point for each £4 spent on the card. These points can soon stack up and save you considerable money on your Christmas shop. After the introductory interest free period the interest rate reverts to 16.9 percent.
Please note that all interest rates and interest free periods were correct at the time of going to press.
You might also like...