Opting for an Overdraft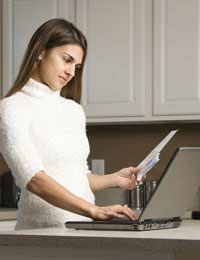 Let's face it most people have an overdraft facility set up on their current account. Overdrafts, if used appropriately, can be a godsend, but reckless spending can land you in deep financial trouble.
It is important that from the outset you know exactly how much your overdraft is costing you. Be aware of the interest rates and any other fees and always read the terms of your contract.
An overdraft facility simply allows you to spend more than the amount that you hold in your account. There is usually a limit that has been previously agreed between yourself and your bank.
If you happen to exceed this agreed limit you will no doubt have to pay a penalty charge and a much higher rate of interest.
You can end up in financial difficulty for exceeding this limit - for example, the bank may send you reminder letters urging you to pay money into your account, or they may even freeze your account until the overdraft limit is fully paid.
The charges
Some banks, but not all, charge a monthly fee along with a fee for the initial setting up of the overdraft and if this is the case with your bank, it might be a good idea to shop around and see what other deals are available.
When it comes to penalty charges, there has been lots of talk of how fair these fees actually are.
Last year, the OFT decided that the majority of penalty charges imposed by banks are far too high, for example a fine of £39 for going over an authorised overdraft limit. The OFT ruled that this charge should, realistically, be no more than £12 which would reflect the actual cost of processing.
These charges amount to an estimated £3.5 billion of the banking industry's income and unsurprisingly, the highstreet banks are not overjoyed with the number of reclaiming cases they have recently received.
Up until now, every case brought up by a customer has been settled out of court by the bank involved. However, as a result of the volume of cases, the OFT has now got involved and is due to make a decision in the test case. This decision will ultimately determine the future of reclaiming unfair bank charges.
Previous to the hold on reclaiming cases until the outcome of the test case, over 150,000 customers had successfully raked back charges from their bank.
Negotiating
No matter what you might think, banks do value your custom, so it is perfectly fine for you to try and negotiate a better deal with your current provider.
Obviously they don't want to lose you to another highstreet bank, so use this to your advantage and ask them to lower the charges, or even for a better rate.
However, the most important thing when speaking to your bank account an overdraft is to be honest with them. Outline from the beginning how you plan on repaying the money and how good or bad your financial position is.
They are there to help you and are available to give you advice towards sorting out any debt problems you might currently have.
You might also like...