Opening a Student Account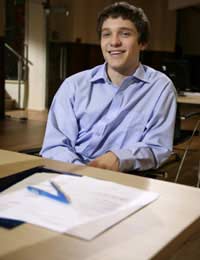 So, you are heading off to university and need a home for that large student loan cheque to be paid into. Now is the time to start looking at student accounts and choosing the right one for you.
There are loads of accounts being offered to students at the moment and each comes with a special introductory offer. These are often very attractive – a mobile phone, a camera or even cash – just for simply opening an account.
But, as easy as it is for you to open an account and walk away with the freebie, you will save more money in the long run by shopping around and finding the student account that is most suited to you.
As a student you will no doubt require an overdraft facility on your account – whether you intend to use it or not! With regards to this facility, it is important that you check the rate of interest the overdraft will charge.
With student accounts you usually get a certain amount interest-free, but what you need to look at is what you will be charged if you exceed this amount and what the interest rate will become once you have graduated.
It is important that from the outset you know exactly how much your overdraft is costing you. Be aware of the interest rates and any other fees and always read the terms of your contract.
An overdraft facility simply allows you to spend more than the amount that you hold in your account. There is usually a limit that has been previously agreed between yourself and your bank.
If you happen to exceed this agreed limit you will no doubt have to pay a penalty charge and a much higher rate of interest.
You can end up in financial difficulty for exceeding this limit - for example, the bank may send you reminder letters urging you to pay money into your account, or they may even freeze your account until the overdraft limit is fully paid.
Applying for Your Account
Once you have decided which bank account you want, you can start the application process. This can usually be done before starting your course, although you are likely to need evidence that you have been offered a place such as a confirmation letter from UCAS or offer letter from the university.
Alongside your application form you will need proof of your identity - usually a passport or driver's licence - and confirmation of your home address. If you are opening an account before you move away to start a course, the bank will accept proof of your current address.
The bank will also want proof that you are a student. If you have started your course, an NUS card or student loan cheque should be sufficient.
Once it has received your application, the bank will run a credit check to ensure you are eligible for an overdraft and debit card.
When opening a bank account, remember that you can switch to a different deal later on if you become unhappy with your chosen bank.
Remember, too, that although it might be tempting to maximise the freebies by applying for more than one account, most banks will have something in the small print saying they expect their account to be your "main current account". This means they will expect to receive your student loan payments.
You might also like...