Holding a Joint Account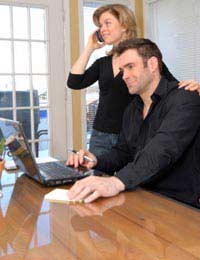 There are so many different types of bank accounts available and each one offers different facilities, has different charges and interest rates, all of which makes choosing the right bank account much more difficult.
Having a joint bank account is important for the management of you and your partners personal finances and practically every bank offers a product, but it is difficult to know when you have found the right one.
Banks, supermarkets and the post office all offer joint current accounts and the one similarity is the ability to deposit and withdraw money at any time.
Whats Important to you?
The one item that has become more vital as part of our finances with more and more Brits relying on overdrafts to get them through each month.
Most highstreet banks allow you to have an arranged overdraft and to be allowed to do that you will probably be charged an authorised overdraft rate. However, if you exceed the agreed limit or you haven't got an arranged overdraft the interest rate you are charged will be set much higher.
When you are looking for a joint bank account, it is important that you don't opt for the one with the best offer. Many banks have introductory offers, such as an interest-free overdraft for a certain period of time, although remember to look at the rate if once this period expires.
Depending on what you will be using the account for will be the ultimate deciding factor in which account is right for you. With so many different facilities on offer with different accounts you should look for an account that is best suited to your banking needs.
Quite a few accounts currently available on the market require a minimum amount to be paid directly into the account from your salary each month.
Many joint accounts require a minimum amount to be put in each month and some stipulate that this should be from your salary. It is also becoming much more convenient way to keep on top of your finances and many banks with online accounts now offer better rates.
It is very simple and easy to use and once your online account is set up all of your bills are paid every month and you can log on to check your statement whenever you like.
This is an ideal way to keep track of your everyday finances, and if you have an authorised overdraft you will be able to make sure you don't exceed the limit and endure charges.
Personal debt in the UK has hit an all-time high, which means that we depend on the ability to borrow to get through day-to-day life. This is why it is important to understand what a credit rating is, because it can affect your ability to get that all important loan or credit card. Your credit rating is made up of your financial history, which is stored in a report held by credit reference agencies.
The information help includes previous credit agreements, like credit cards, loans, mortgages, your repayment history and whether you have ever missed payments, have outstanding debts, or have declared yourself bankrupt.
Lenders then calculate a credit score by using this information along with your application form.
The credit score represents the risk that you pose as a potential borrower. The rule of thumb here is that the higher your score, the lower the risk is of lending to you, it also means that as a borrower with good credit you will have access to the best deals.
It is amazing how many people are under the impression that the previous residents of their property have an affect on their credit rating. The financial circumstance of any previous occupiers, whether good or bad, has absolutely no affect on your personal credit rating. You must remember, that it is people that have a credit history and not houses!
It is true that in the past lenders were allowed to take into consideration the credit histories of family members or friends that lived under the same roof. However, this is no longer the case and now the only way you can be affected by somebody else's financial activity is if you have a joint account, mortgage, or other form of credit.
If you do have a joint account, or a form of credit, with a friend or partner, their credit history will be taken into account when you submit an application. If you are refused credit because of your partners credit history, they should take steps to improve their rating. The first step would be for them to get a copy of their credit report and check to see that all the information held about them is correct.
If you have been refused as a result of your financial link with another person, but you are actually no longer have any credit with the individual, you must get in touch with the credit reference agencies, Equifax and Experian, and have them update your credit report. They may request that you get confirmation from the financial provider, whether it be a bank or building society with whom you had the joint account, mortgage or credit card.
How Does a Credit Check Work?
When a lender receives an application for credit from a potential borrower they need to know how much of a risk that person will be.
In order to do this they need to know your financial history and how you have coped with previous pressure to meet repayments.
This is where your credit report plays a part. Instead of you having to relay all of your past and present financial commitments every time you apply for a credit card or a loan.
When considering whether to lend to you, the lender will search through your credit history, looking for any defaults, CCJs or anything that would make you a risk to lend to.
You might also like...