Can My Friend Pay His Cheque into My Account?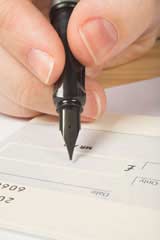 Q.
My friend recieved a UK cheque with his name on, however he doesn't have a bank account. Can he endorse it to my name and could I put it in my account?
(Mr Vaclav Rytir, 27 January 2009)

A.
"After section 81 of the Bills of Exchange Act 1882 there shall be inserted the following section—81A—(l) Where a cheque is crossed and bears across its lace the words "account payee" or "a/c payee", either with or without the word "only", the cheque shall not be transferable, but shall only be valid as between the parties thereto."
Up until 1992, there was no reason why a person could not hand over a cheque, made payable to themselves, to someone else for them to pay into their own bank account. You simply had to write the name of the person on the back of the cheque and that was it – job done.
However, as you can see from the quote above, the law has since been changed and now all cheques have to be crossed. You will notice cheques now have crossing lines across them and the account payee printed across the front of the cheque. This move was done as a way to decrease instances of fraud.
So, this makes it a risk on the bank's behalf to accept a crossed cheque into the bank account of someone other than the name printed on the front and as a general rule of thumb, they just do not accept them.
However, this doesn't mean that there isn't a way. Over the last decade a number of agencies have set up shop on the high street that say they will exchange a cheque for cash. Originally this was marketed as a way of people getting instant cash from pay-day cheques without having the wait for the standard three days.
Of course, these agencies accept the risk that the original cheque could be fraudulent and as a way of counter acting this they tend to charge a fee, typically a percentage of the cheque's value.
If you do want to use one of these agencies as an alternative, then you will no doubt be required to provide some form of identification and also, you should find one that is registered with the British Cheque Cashers Association (BCCA).
You might also like...
My son received payment due to him from LLoyd bank but they refuse to cash the check as he has not use the open account for awhile. He lives aboard and is unable to go to the bank so has asked me to do so for him. Check is crossed to payee only. Bank will not accept check to be inputted to his accountas account has not been used. Advise on what to do.
JO123
- 13-Jun-19 @ 3:19 PM
Hi one friend he give me one cheque from hmrc revenue can i put in my bank account ?
Johnny1986
- 25-Apr-19 @ 1:12 PM
My Nan has given me a cheque, made payable to myself, she has written across the centre (across the crossed section) PAY CASH can I cash it at my bank RBS, she banks with the Halifax .
Brooky
- 12-Oct-18 @ 6:22 PM
I have a cheque from the lottery can i put it into someone else's bank account
Johnboy
- 27-Sep-18 @ 9:23 PM
I've got a cheque in my birth name do I need I'd to cash into someone else bank as I have no I'd in that name
Lee
- 10-Sep-18 @ 5:14 PM
Hi my partner as a cheque but no bank account as he uses mine and hes no id can he pit this in mine thanku
Tinks
- 26-Jul-18 @ 6:46 PM
Bm bm - Your Question:
Checks are no longer being accepted get up to date with times people
---
Our Response:
Cheques won't be phased out until October 2018.
BankAccountAdvice
- 11-Jun-18 @ 3:07 PM
Checks are no longer being accepted get up to date with times people
Bm bm
- 8-Jun-18 @ 8:28 PM
Can I put cheque in my wife back as I don't have 1
Tim
- 24-Mar-18 @ 4:26 PM
I've got a refund from tv licensing but I don't have a bank
Dee
- 20-Mar-18 @ 7:23 PM
My wife got fined for no tv liscence,and has been paying £20 per fortnight from our joint benefit caim, which is paid into my bank account as she hasnt got a bankaccount! Today she got a cheque from them for an overpayment! Can she put it in2 my account?
Pompey
- 19-Feb-18 @ 4:30 PM
My bf has been sent a.check.but only has a post office card account and cannot put it in. He also has no photo id. Can I put this in my.bank account?
Loz
- 26-Jan-18 @ 2:34 PM
My son as 4 cheque sent to him but wants them in my bank account can i put them in my bank account.
janette
- 12-Dec-17 @ 5:06 PM
My husband has a cheque made to him Mr M Frost but has no account can I put it in to my account if so how
Melmart
- 9-Nov-17 @ 6:52 PM
I have cheque with title of Cash, Can Itramnsfer it to my account as it is crossed with two parralel. Please guode me.
Marwat
- 24-Oct-17 @ 5:13 PM
My dad has received a cheque for my mums pension after she passed away. Unfortunately my dad doesn't have a bank account and no fixed abode so therefore no utility bill to open an account. The only account he has is a basic Post Office one and they said they will not accept the cheque totally nearly £9000. My dad is happy to pay the cheque into my my bank account. Is there a way he can do this even though it's been signed in his name. We will both be present when we go into the bank so would this be ok?
Emma
- 19-Oct-17 @ 9:35 PM
I got a cheque on my name. And I want to transfer it to my father account. Is this possible?.. Please reply........
Chinnu
- 19-Jul-17 @ 11:16 AM
I got a cheque in my name..and I wanna transfer it to my father account..is tis possibl..??
Vnna
- 14-Jul-17 @ 4:22 PM
Horde - Your Question:
How can someone pay/Order money from his account with my name for other/ beneficiary?
---
Our Response:
Only the account holder can take money from an account.
BankAccountAdvice
- 12-May-17 @ 12:48 PM
How can someonepay/Order money from his account with my name for other/ beneficiary?
Horde
- 12-May-17 @ 1:07 AM
I have received cheque in partner name and I want to deposit the same cheque in our firm account , is it possible
Raj
- 26-Apr-17 @ 11:32 AM
@sammib5 - you can only pay it into the account the person's name on the cheque is in.
DaveR
- 24-Apr-17 @ 11:54 AM
I have a tex return cheque in my partners name but we want to pay it into my account am i able to cash it into my account?
sammib5
- 23-Apr-17 @ 4:47 PM
I received a check with pvt ltd co.name . however dont have a curunt bank account. How can i cash it?
I received a check from a UK bank however dont have a bank account in the UK. How can i cash it? I am currently in the UK, but leaving over the next week. Thanks, Magdalena
mali
- 7-Apr-17 @ 3:37 PM
I have got a cheque in my name but do not have a bank account how do i cash it
Clarrissa
- 10-Mar-17 @ 5:54 PM
I have applied for credit card they want my bank details. I dont have a bank would they accept my mums bank details cheers
Shaz
- 14-Feb-17 @ 2:01 PM
We have a 3 person mortgage and are remortgaging for an extension so expecting a cheque this will have all 3 names on, however only 2 of us have a joint bank account will we be able to pay this in to our account despite the account only have 2 of the 3 names on the chq? Will be depositing into Lloyds bank. Or do we need to add the 3rd to the account
Krystina1288
- 4-Feb-17 @ 2:22 PM
Can i pay in a large banker's draft i have been given as a gift thats not in my name?
Vicky
- 2-Feb-17 @ 8:07 PM
Hi there I recently received a cheque from H&M revenue from when I worked in London from 2012-2013. I am an Australian citizen currently living in Canada but will be re-visiting England in the next few months. I don't have a bank account anymore there but my partner (English citizen) does. Are we able to take that cheque into his bank and he can deposit it into his account with my consent? I don't want to have to pay the fee to have it cashed or the currency exchange to CAD when we plan on using it for being in England Thanks in advance
BV2017
- 2-Feb-17 @ 2:38 AM